Rift and Vive are two of the most popular VR headsets on the market. However, if you're looking to play non-VR PC games on your VR headset, there's a very good chance that it won't work.
The vorpx is the software that allows you to play non-VR PC games on Rift or Vive. It is a program that runs in the background and allows the game to be played without any noticeable lag.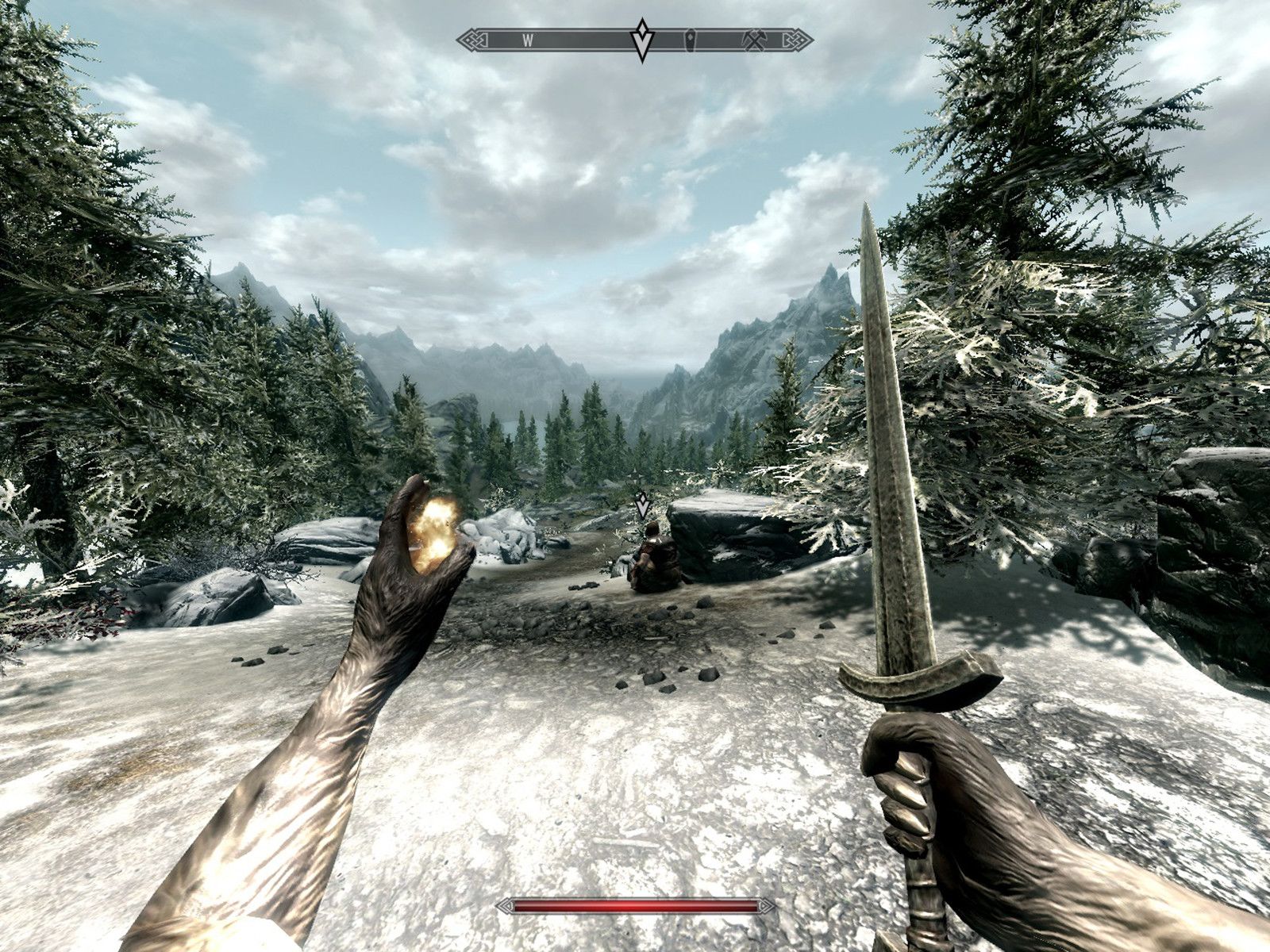 Whether you have a terrible Steam library (in a good way), you're probably wondering if and how you can play all of your games on your Oculus Rift or HTC Vive.
Yes, you can play normal games in VR, as stated in the IF question.
The HOW question is a little more difficult to answer. Here are a few ways for getting all of your games working on Rift or Vive.
How to connect your Rift to SteamVR
The first step for Rift owners is to get their headset functioning in SteamVR (Vive owners can ignore this process).
From your desktop or Start menu, open the Oculus app.
In the top right corner, click the gear button.

Select Settings from the drop-down menu.
Go to the General tab.

A checkmark will show next to the switch next to Unknown Sources.
Allow is selected.
The Rift is now compatible with SteamVR and your Steam game library. Note that hitting the Back button on your Xbox controller brings up the SteamVR interface.
Apps for Steam that allow you to play non-VR games in virtual reality
When you use a VR headset, these Steam applications basically place a screen in front of your virtual face.
You won't be able to obtain a complete VR experience since you won't be able to get 1:1 movement tracking; instead, look at 3D drivers for a more comprehensive VR experience.
Check out these applications if you don't mind playing your games in 2D on a massive virtual screen while in VR.
BigScreen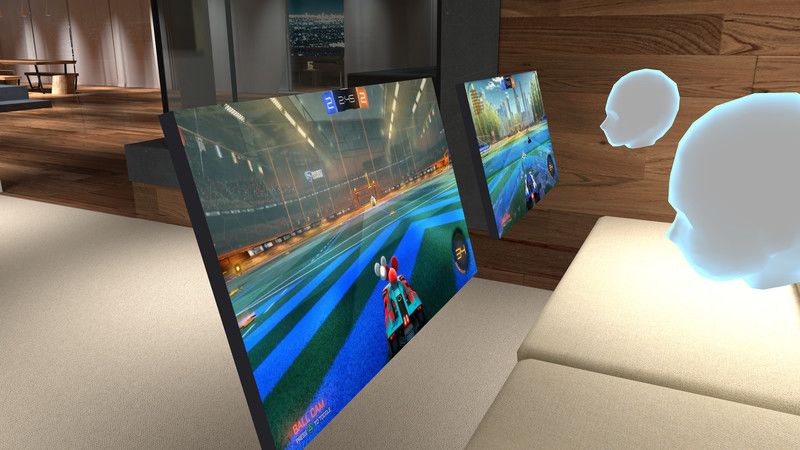 BigScreen is a free Steam software that allows you to play all of your games in virtual reality while sitting in a penthouse on the top of a skyscraper.
In various rooms (including the open-air penthouse balcony), you may choose your seat and customize the screen that appears in front of you by default.
What can you see on the screen? Any game you choose to play is mirrored on your monitor's desktop. BigScreen isn't named BigScreen for nothing: it allows you to enlarge and rotate your screen. Make a theater-sized display and suspend it in mid-air over the penthouse balcony railing.
No, you won't be put into your game right away, and there won't be any head tracking. This is more of a simulation that puts a large screen in front of you with your game on it. What's the greatest part? For a "local" LAN party, invite your pals to the penthouse. That's very nice.
Desktop (virtual)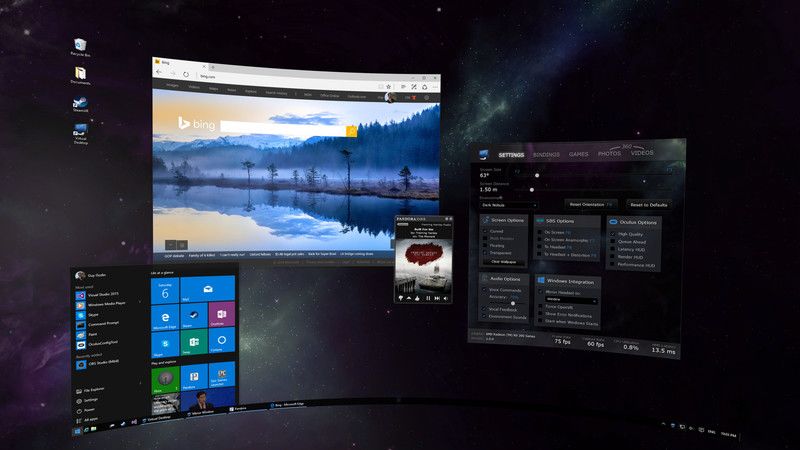 Virtual Desktop is another another multi-purpose software that happens to show your games on a large screen in virtual reality.
There's no skyscraper penthouse to hang out in with your friends, but the Steam Workshop has a ton of 360-degree desktops to download for free. You may even create your own setting in which to play games if you're a creative kind.
Virtual Desktop has a screen that you may customize to look like your monitor's desktop. Any game you're playing will appear on your virtual reality headset. The adjustable curve is intended to fit your unique vision, and you may resize the screen to your heart's delight.
After experiencing Virtual Desktop, it will be difficult to go back to gaming on a normal display.
3D drivers that allow you to play non-VR games in virtual reality
So, you want to get the full VR experience while playing games that aren't intended for VR? When you swing a sword or aim a pistol, you want 1:1 movement tracking. Ask, and it will be given to you.
These 3D drivers immerse you in your normal games as if they were created for virtual reality. Keep in mind that both pieces of software are still under development; they are continuously updated and will only improve.
VorpX
Why have we previously written so much about VorpX? It's fantastic, in our opinion.
In games like Skyrim, Fallout, and Call of Duty, VorpX is a 3D driver that monitors your movement. Their website has a comprehensive selection of games, which is very remarkable. Some of the titles are likely already in your Steam collection.
Look at VorpX if you don't mind paying about $40 for a true VR experience in your current games.
Perception of Vireio
Vireio Perception is basically a free version of VorpX (yes, it's a 3D driver, and yes, it monitors your motions 1:1) with much less games supported right now.
Try Vireio Perception if you want to convert your normal games (like Fallout 4 – ooh, baby) into a real VR experience but don't want to spend $40. It's free, and it's a great place to start if you're new to virtual reality.
What games do you like to play?
Have you replaced your display with a Rift or Vive? What is your favorite non-VR game that you can play in virtual reality? What is the mechanism behind it? Tell us everything in the comments section below!
Frequently Asked Questions
Can I play non-VR games on HTC Vive?
Yes, you can play non-VR games on the HTC Vive.
Can you play normal PC games with Oculus Rift?
Yes, you can play normal PC games with Oculus Rift.
Can you play non-VR games on Oculus Rift?
Yes, you can play non-VR games on Oculus Rift.
Related Tags
oculus rift
play non vr games in vr
playing non vr games in vr reddit
how to play vr games on pc without vr
best non vr games in vr